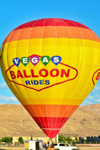 Hot Air Balloon Ride
Pris från 2128 kr
Try an experience of a lifetime! Book an amazing hot air balloon ride, lasting from 45 minutes to 1.5 hours in the air and followed by a traditional champagne toast.

During your flight you will get a spectacular bird's eye view of the gorgeous Red Rock Mountains and the famous Las Vegas Strip. You will drift silently over the city and countryside where you will watch for wildlife and wave with envious onlookers down below.

You should plan to be with us for up to 4 hours in total to allow for the check-in, travel to a launch location, safety briefing, set-up and pack-up of the balloon, as well as, the return drive to our original meeting location. Bring your camera, video camera, or binoculars if you wish, as well as a case to protect them during landing.

Duration: approx. 4 hours

Important information:
- Shortly after your booking is complete, you will receive an e-ticket by email. Please print out your ticket and bring it with you on the tour.
- This tour includes free hotel pick-up and drop-off for guests staying in hotels near the The Strip. Later in the booking process we will ask for your hotel details. Pick-up is AROUND 1 to 2 hours before your scheduled flight time.
- Approx. 24 hours before your tour date, you must call our agent to schedule the balloon Ride start time and pick up time at your hotel on or near The Strip .On the e-ticket you receive after you have completed your booking our agents toll free number is stated
- The tour is in English.
- Children must be 10 and over to enjoy this tour.
- All reservations must be reconfirmed the evening prior to the flight to confirm hotel pickup location and time.
- Please note: Ballooning is extremely weather dependent. We require less than 8 knots of wind, in addition to no impending storms. Your safety is our main concern. Vegas Balloon Rides reserves the right to cancel a flight due to weather conditions or other safety reason.
- We recommend that you wear layers. It can be quite cool in the early morning and can quickly heat up as the sun rises higher. As you will be climbing in to and out of the basket, we suggest you wear comfortable, casual clothing.
- We also ask you to please wear comfortable and sensible footwear. The fields can be quite rough, so no open toed shoes, heels or sandals please.
- We recommend that you wear a hat, as the residual heat from the burners can make those who are sensitive to heat mildly uncomfortable.