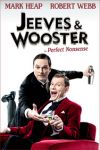 Jeeves and Wooster
Duke of York's Theatre
Pris från 311 kr
Jeeves and Wooster is a brand new play and comedie. Join Stephen Mangan as the effervescent, aristocratic fool Bertie Wooster and Matthew Macfadyen as his dutiful valet Jeeves in the world premiere of this new stage play, featuring P.G. Wodehouse's iconic double act.

When a perfectly delightful trip to the countryside takes a turn for the worse, Bertie Wooster is unwittingly called on to play matchmaker – reconciling the affections of his host's drippy daughter Madeline Bassett with his newt-fancying acquaintance Gussie Fink-Nottle. If Bertie, ably assisted by the ever-dependable Jeeves, can't pull off the wedding of the season, he'll be forced to abandon his cherished bachelor status and marry the ghastly girl himself!
Riktigt bra
4.0
Betyg från 1 kundrecensioner
En brittisk (ny)klassiker
Om du är väl förtrogen med Bertie Wooster, Jeeves och författaren PG Wodehouses´s persongalleri, är detta riktigt bra underhållning. En modern brittisk klassiker, skulle man kunna säga. Underfundigt och roligt. Endast tre aktörer gör samtliga roller, med hjälp av fiffig rekvisita, kläder med mera.

Den som inte har läst Wodehouse (eller sett Jeeves och Bertie på TV/film) kan få vissa problem att hänga med. Språket kan upplevas som lite komplicerat.
Jeeves and Wooster Reviews
"An inventive evening of bonkers comedy"
Daily Mail
---
"A too-rare 22-carat demonstration of silliness as one of the great English virtues"
Financial Times
---
"Macfadyen is excellent as the discreetly competent Jeeves"
Evening Standard
---