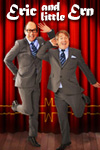 Eric and Little Ern
Vaudeville Theatre
Pris från 544 kr
Eric and Little Ern in London is a very funny comedy known from BBC. Book your tickets for Eric and Little Ern in London here!

The affectionate and fantastically funny homage to the greatest comedy double act that Britain has ever seen vividly brings back warm memories of a bygone era.

Recreating some of the finest moments of Eric and Ernie's television and stage performances, cherished moments from the archives sit alongside new material created by the performers.

Together they make a brilliant comedy that recreates the all ages appeal of Morecombe and Wise in their heyday. This strictly limited West End season follows the shows sell out premiere at the Edinburgh Festival fringe , which won rave reviews and was featured on BBC News at ten.