Wyndham's Theatre, London
Alla Wyndham's Theatre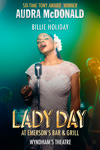 Lady Day at Emerson's Bar & Grill
Sexfaldige Tony Award® vinnaren Audra McDonald gör sin West End-debut som den legendariske jazzikonen Billie Holiday. Lady Day at Emersons Bar & Grill är en sann tour de force av musik, jazz, blues och drama. Upplev en jazzlegends liv!
Heisenberg: The Uncertainty Principle
Tony and Olivier Award-winning director Marianne Elliott has teamed up with producer Chris Harper to create an exciting new theatre company, Elliott & Harper Productions. For their first production Marianne Elliott reunites with playwright Simon Stephens, and the creative team from The Curious Incident of the Dog in the Night-Time for the UK premiere of Heisenberg: The Uncertainty Principle.