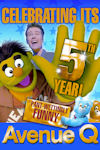 Avenue Q
Wyndham's Theatre
Kultförklarade Avenue Q the musical i London är South Park och Muppet Show i ett! Köp biljetterna till en av West Ends roligaste musikaler här!

Föreställningen utspelar sig i ett påhittat kvarter i New York som befolkas av en förtjusande samling kufiska typer i form av den korkade Christmas Eve och hennes olyckliga fästman Brian samt dockorna slappa Nicky, garderobsbögen Rod, den förvirrade Princeton, den kärlekstörstande Kate, sexgalningen Trekkie Monster och bimbon Lucy The Slut. De svär som borstbindare, ägnar sig åt docksnusk på scenen och kommer med både kloka och galna visdomsord.

De här typerna hör inte hemma på Sesame Street. Faktum är att de förmodligen inte ens är välkomna på Sesame Street. Det är missvisande att kalla det för dockteater och mupparna för vuxna stämmer inte heller. Det finns egentligen inget bra ord som beskriver Avenue Q, men man kan lugnt säga att det är den lurvigaste och kanske även den roligaste föreställningen på länge.

Avenue Q innehåller scener som kan vara olämpliga för barn under tolv år. Vi tar tyvärr inte emot barn under fem år. Vi kan med säkerhet säga att Avenue Q innehåller scener som passar för alla vuxna med sinne för humor!
Avenue Q Reviews
"Brash, vulgar, sometimes downright obscene, I loved every minute of it"
Sunday Times
---
"An outrageously funny musical for the iPod generation. Cross Sesame Street with the Muppet Show give it an X rating and slap on a Government Health Warning that too much laughter can make your sides ache and you've got Avenue Q, A MUST SEE"
Radio 2
---
Avenue Q Pressmeddelande
"The best musical of the decade" - Christopher Hart, Sunday Times. After a hugely successful run at the Gielgud, the eternally popular musical Avenue Q will move to the Wyndham's (almost back to where it ...
Läs mer