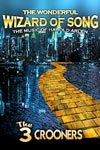 The Wonderful Wizard of Song: The Music of Harold Arlen
St. Luke's Theatre
Biljetter till The Wonderful Wizard of Song: The Music of Harold Arlen på Broadway i New York. Boka din biljett till The Wonderful Wizard of Song här!

Trollkarlen från Oz förflyttar sig från The Cotton Club, genom Harold Arlen's Hollywood till Broadway, med berättelser om hur några av världens mest älskade sånger skapades. Vi vår se sällan visade bilder tagna bakom kulisserna från Trollkarlen från Oz fotade av Harold Arlen själv.

Medverkande gör The Three Crooners, George Bugatti, Marcus Goldhaber, Joe Shepherd och Antoinette Henry. Arlen's revy gör sin New York-debut efter en nationell turné till 18 amerikanska städer och en månads gästspelningar på Debbie Reynolds Theatre i Las Vegas.

Trollkarlen från Oz: The Music of Harold Arlen inkluderar hits som: "THAT OLD BLACK MAGIC", "WORLD ON A STRING", "ONE FOR MY BABY", "ACCENTUATE THE POSITIVE", "LETS FALL IN LOVE", "STORMY WEATHER", "BLUES IN THE NIGHT", "THE MAN THAT GOT AWAY", "GET HAPPY", "PAPER MOON", "SOMEWHERE OVER THE RAINBOW" och många fler.

OBS! När du bokar biljetter till en musikal i New York här på siten väljer du priskategori och sektion (parkett / orchestra eller balkong / mezzanine). Era exakta platser, med rad- och stolsnummer, bekräftas av teatern, ca 36 timmar efter ni har gjort er bokning, då er slutgiltiga bokningsbekräftelse/voucher skickas till er e-postadress. Vi kan inte påverka den exakta placeringen av rad- och stolsnummer, eftersom det enbart är teatern som hanterar tilldelningen av platser. Dessa platser kan inte på något sätt ändras eller bokas om.