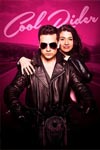 Cool Rider: The Cult Musical Sequel
Duchess Theatre
Pris från 580 kr
Perhaps the greatest sequel ever told, COOL RIDER, the cult musical sequel is BACK and in the London West End. Book your tickets for COOL RIDER in London here!

The film told the heady and daring love story of two unlikely lovers and their road to romance from bowling alley to burger joint, sing-a-long-a-sex education class to talent show, and long (and beautifully lit) romantic motorcycle rides to a slightly incongruous luau ending. Much like its musical prequel, the story follows the ancient High School motto: if you want the guy/girl, change your personality beyond recognition and wear overly tight leather in the finale.

The concert features the hit songs 'Who's That Guy?', 'Score Tonight', 'Cool Rider' (which will be sung precariously atop a step ladder without the aid of wires for safety), 'Girl for all Seasons' and the haunting melody of 'Rock-a-Hula Luau (Summer Is Coming)', and will pay homage to the films sheer brilliance (and shortcomings) with many surprises along the way.

So grab your leather jackets, book your tickets, rat that hair, hide those hickeys and head to the Duchess Theatre for this classic cult cinematic concert!
Fantastiskt
5.0
Betyg från 1 kundrecensioner
Något för Grease 2-älskaren!
Om du sett och älskat Grease 2 så är detta musikalen för dig. De driver med denna b-rulle och har alla citaten du känner igen från filmen. Två timmar av skratt! Publiken sjunger med och det är väldigt bra stämning.
Har du inte sett filmen, se den innan!