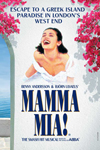 Mamma Mia! Until 1st September
Prince of Wales Theatre
Pris från 691 kr
Världens populäraste show Mamma Mia - the musical spelas på Prince of Wales Theatre i originalstaden London! Som bekant står ABBA för den medryckande musiken!

Svenske Andreas Gyllander gör sin West End debut som Sky i Mamma Mia! Från den 11 juni 2012 kan vi se honom på scenen!

Andreas är utbildad vid Royal Academy of Music i London, och vi har fått se honom i flera uppsättningar på NorrlandsOperan, Lerbäcks Teater, Svenska Teatern i Helsingfors samt senast på Madinat Theatre i Dubai. På filmduken har vi sett Andreas som Lucas i Inga Lindströms Hannas Fest.

Över 40 miljoner människor runt om i världen har förälskat sig i karaktärerna, handlingen och musiken som gör MAMMA MIA! till den ultimata feel good musikalen!

Manusförfattaren Catherine Johnsons glada, roliga historia utspelar sig i ett grekiskt öparadis. En dotter försöker kvällen före sitt bröllop hitta sin far, vilket för tre män ur hennes mors förflutna tillbaka till den ö de inte har besökt på 20 år. Berättelsens magi i ABBA:s tidlösa låtar utvecklar den här historien om kärlek, glädje och vänskap, och varje kväll har alla sin livs kväll!

Föreställningen bjuder på 27 av ABBAs mest välkända låtar, bland andra Dancing Queen, Knowing Me Knowing You, Super Trouper och Mamma Mia! MAMMA MIA! spelas oftare internationellt än någon annan musikal, och är världens främsta föreställning!

Läs mer om Andreas Gyllander och Mamma Mia på vår blog!

Andra "feel good" musikaler som varmt kan rekommenderas: Mamma Mia, Billy Elliot, Priscilla Queen of the Desert

Andra musikaler i London som har musik skriven av världskända solister eller grupper: Mamma Mia - The Lion King - Thriller-Live & Jersey Boys.

Från september 2012 spelar Mamma Mia på Novello Theatre i London.

Läs mer om Mamma Mia! på Broadway i New York!
Mamma Mia! Until 1st September Reviews
"A GLORIOUS EVENING OF FUN!"
Daily Mail
---
"AN IRRESISTIBLY ENJOYABLE HIT! SHEER HEAVEN!"
Daily Telegraph
---
"INFECTIOUS THEATRICAL ENTERTAINMENT!"
Financial Times
---
Mamma Mia! Until 1st September Pressmeddelande
Night after night, audiences are having the time of their lives at MAMMA MIA!. Catherine Johnson's sunny, funny story of love, laughter and friendship has been thrilling London audiences for over 10 years. More recently ...
Läs mer