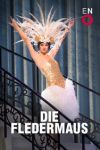 Die Fledermaus
London Coliseum
Pris från 430 kr
Enjoy Johann Strauss' operetta Die Fledermaus at London Coliseum in London. Book tickets for Die Fledermaus at London Coliseum in London here!

Johann Strauss 's classic operetta Die Fledermaus is a comic story of revenge, seduction and mistaken identity, centred on a high society party thrown by Prince Orlofsky. Man-about-town Eisenstein is to be jailed, his wife is being seduced by an old flame , his friend Dr Falke has a plan to exact revenge for a past prank and everybody wants to go to the party.

Light-hearted and colourful , yet sophisticated, this new production from Olivier Award- winning director Christopher Alden is re-imagined in an Art Deco inspired fantasy world influenced by Freud and dream analysis. The staging offers the perfect complement to Viennese Waltz-King Strauss's sparkling melodies, including the joyous "Laughing Song" and memorable chorus in praise of champagne.
Dåligt
1.0
Betyg från 1 kundrecensioner
En operanörds syn på Die Fledermaus
Bra ensemble och fiffig scenografi.
Vi satt på "Upper circle" med god utsikt över scenen men det var hett som i en bastu med nästa cirkle precis över huvudet.
Dessvärre gick inte ljudet fram - vare sig sång eller orkester och rakt inte talet. Behållningen blev därför därefter.
Rådet till presumptiva besöker är att antingen köpa biljetter till salongen eller avstå!